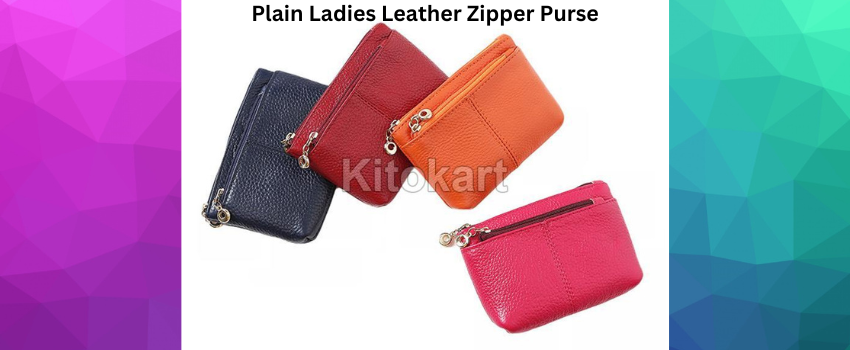 A Plain Ladies Leather Zipper Purse is certainly a woman's best friend when it comes to keeping all of her essentials together in one location. Even if there are numerous choices, it can occasionally be challenging to pick the one that is perfect for you. Additionally, remember that you might not need the exact style of bag you desire.


Keep the following advice in mind before buying women's leather bags:
● Common Leather Types:
To match your leather shoes and other leather accessories, you should choose a Plain Ladies Leather Zipper Purse. Even after extensive use, high-quality leather still looks fantastic. Over time, the best leathers develop a stunning patina, or a material's weathered, sheeny quality. As the quality increases, the patina grows better. In heavily treated leather or other lower grades, you won't find it.
Avoid glued leather purses at all costs. These bags are produced from discarded leather pieces that have undergone horrific chemical and plastic alteration. It doesn't hold up well over time and lacks the distinctive, alluring leather aroma. It's very common these days, and sellers frequently attempt to pass them off as real leather goods.
● Tanning Process:
Not all leathers are prepared the same way when it comes to handbags and purses. The differences between the two primary tanning techniques, vegetable tanning and chromium tanning, must be understood (especially since they affect the price). Leather is produced by the chrome tanner using chromium and other harsh chemicals. Their products are always affordable because they are finished in a short period.
● Country of Origin:
The nation of origin of the leather frequently affects the bag's quality. We are aware of some countries that routinely manufacture high-quality leather, like the US, Italy, England, and France. History reveals that those countries have a strong reputation for producing leather of the highest calibre.
However, you must use a little more discretion in modern days, especially when applying labels. To profit from the "Italy" name, some companies simply finish the leather in Italy after doing the remainder of the work in another country.
● Durability:
The best leather items are made with the toughest leathers. They are accomplished works of art that require more than just the assembly of numerous parts. Both the leather and the stitching need to be carefully selected.
The ideal bag like Plain Ladies Leather Zipper Purse can move and bear a certain weight without faltering in the slightest. The grain is crucial because full-grain leather is used to create the toughest bags. Top-grain leather, however, is a more affordable and functional alternative.
Furthermore, metal hooks or reinforced stitching must be used to fasten the handles to the body. Since they may break loose or fall off, the straps shouldn't be glued to the bag.
● Colour:
Below are explanations of each of the four least popular hues for leather bags: black, dark brown, tan, and light brown. Black and dark brown are the hues that go nicely in professional situations.
They exude an air of authority and accountability. Lighter brown and tan hues go nicely with a relaxed or casual work setting.
Avoid bags with more than two separate colour stitchings or contrasting stitching. These handbags are perceived as being showy. One colour would be the safest wager.


Benefits That You Get From Leather Bags:
Natural & Eco-Friendly -
Leather is a natural product, as opposed to various synthetic materials that are used to make bags. Because synthetic or fake bags would pollute the environment, also means that producing a leather bag requires fewer chemicals than producing one from real leather. Leather provides a pleasant sensation and gives us peace of mind because it is natural and not made with strange chemicals from a lab.
Durability & Flexibility -
The well-known hardness and durability of leather are one of the reasons it is one of the most widely used materials for handbags. You don't have to worry about breaking your leather purse when using it every day.
Its natural flexibility complements its sturdiness, and as it ages, it gets even more flexible, giving its shape a characteristic form and enabling it to age elegantly without losing any of its trendy looks, form, or utility.
Naturally Waterproof & Breathing-
Leather bags like a Plain Ladies Leather Zipper Purse provide some measure of protection for your belongings if you unexpectedly find yourself in a mist or light rain. We're not denying that soaking your luggage in water could result in negative consequences, but it can tolerate moisture with pride.
Leather is breathable as well. This suggests that it protects itself from smelly odours, fungal growth, dust mites, and dry abrasion—all of which could easily destroy other fake leather or synthetic bags.
Pocket-Saver:
Because you might believe leather bags to be pricey, you could hesitate to make a purchase. But if you do some math, you'll realise that investing in a top-grain leather bag like Plain Ladies Leather Zipper Purse will save you money in the long run.
Everyone may count on a leather bag's unmistakable air of sophistication and refinement as its first reliable characteristic. When you carry a top-grain leather holster, whether it be in navy blue, red, or just the classic black colour, you will certainly feel the edgiest person in the entire meeting room, throughout your work assignment, and everywhere in between.
Make sure the women's handbags you're thinking about are made of real leather rather than fake or imitation. Take a look at the bag's finish. Is the leather touchably smooth? Does the leather have any flaws or stains? Additionally, leathers that are softer tend to cost more because they are of higher quality.
Women's handbags are available in a wide range of designs, such as totes, cross-body bags, Plain Ladies Leather Zipper Purse, and clutches. Pick a women's handbag design that fits your personality and goes well with your choice of clothing. Additionally, pick a look that you are at ease wearing. Think about the straps' length and width.
Women's purses made of genuine leather must be taken care of to keep their attractiveness. This maintenance entails conditioning the bag a few times annually, cleaning it with the proper cleaners, and keeping it as dry as possible. Think twice before buying if you're prepared to take the suggested care of the bag. The life of the bag can be extended with regular cleaning and maintenance, but it can also be damaged with bad care.